Yes, You Can Wear White Jeans… And Look Amazing
---
Yes, You Can Wear White Jeans… And Look Amazing
We help you find your perfect pair of summer's most iconic jeans
---
If you're hesitant about wearing white jeans -- you no longer need to be. Our love for white jeans knows no bounds. An all-white denim outfit is one of Nicky's favourite looks, especially during the summer, and she always gets a tonne of compliments. Why? Because all white elongates the body, makes accessories and sunnies pop, and just has that elevated euro-holiday vibe.
We're on a mission to help every client find their perfect pair of summer's most iconic denim. Honestly, there is a pair of white jeans for everybody! We've pulled together this inclusive guide that gives you general rules to help when buying, the right white jean for your lifestyle and body type, and our foolproof guide to keeping them white for as long as possible! Read on for the full story.
---
A Few General Rules When Buying White Jeans
Firstly, if you can, come in and see us! We are denim experts and can take you through every step of the process, we even offer free personal styling to help you curate an entire wardrobe around your new white jeans. If you're unable to get in-store, remember the three golden rules of white denim when buying online.
Fit: More than any other colour, you want white jeans to look especially tailored, so it's important to ensure you have the right fit. If in doubt, we suggest sizing up! And if going up a size means they're too long in the leg, don't be afraid to take them to alterations to ensure they look perfect for your body type.

Comfort: A summer jean staple, white denim doesn't just look fresh, it actually keeps you cooler. Look for a style that'll keep you feeling comfortable even in hotter temps -- we suggest wider or slim-fit legs over anything too grabby around the thigh. Although skinny jeans have a time and a place, it's usually not in white denim.

Quality: Although important for any jeans, when it comes to white, quality is essential. Details, stitching, and hardware are all important finishes that ensure your denim looks luxurious and not cheap.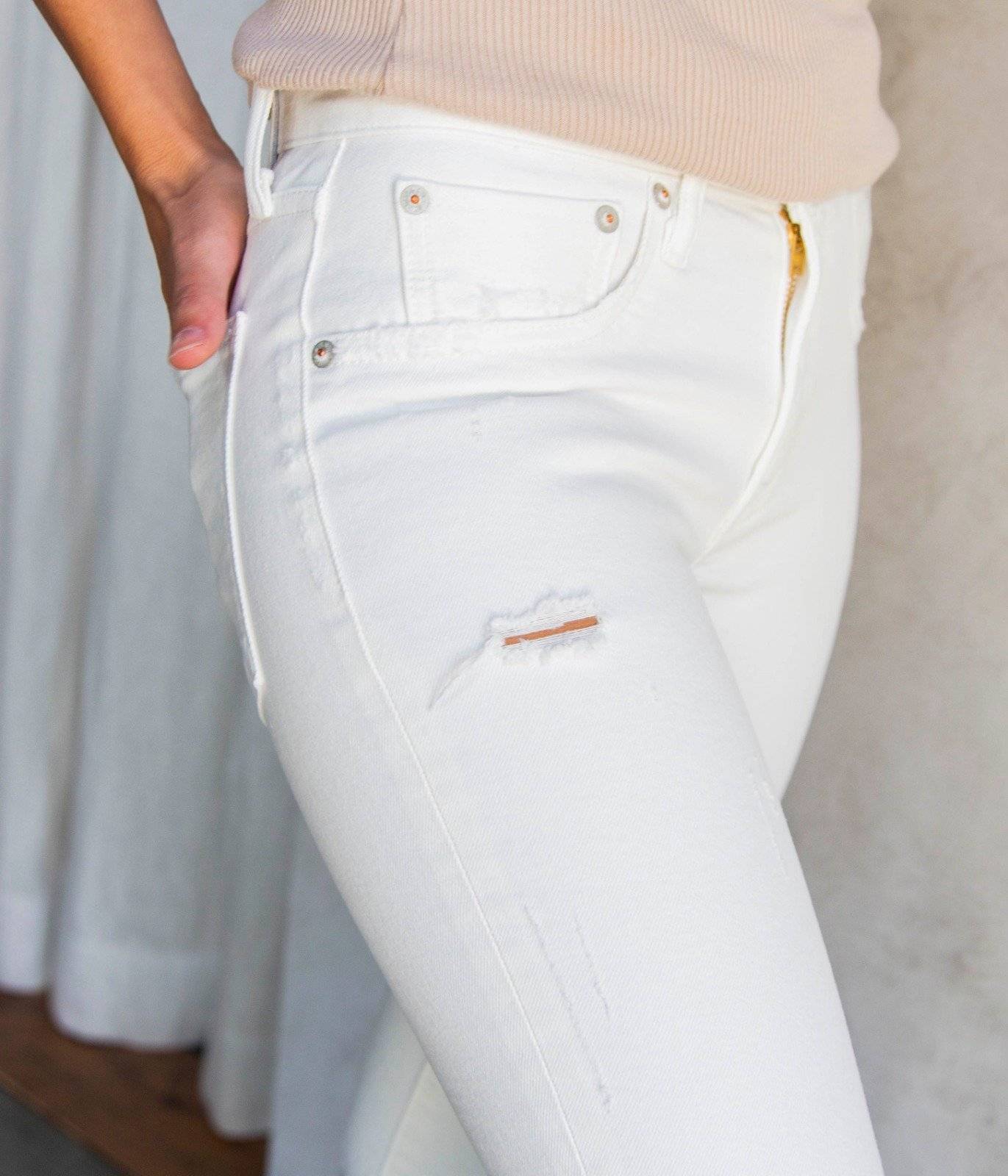 Why Do You Need White Jeans In Your Capsule Collection?
Elegant (yes, elegant), light, and versatile -- these are a must-have for your summer capsule collection. Imagine borders are open and you're packing a bag for Greece or Ibiza, what are you taking? Obviously, a pair of white jeans. For an elevated everyday look at home, you can pair them with sneakers, sandals, or thongs. If you have a good fit and they're pressed, you can even style them with a silk shirt and heels, and wear them out to dinner.
---
Here's Our Best White Jeans for Your Lifestyle & Body Type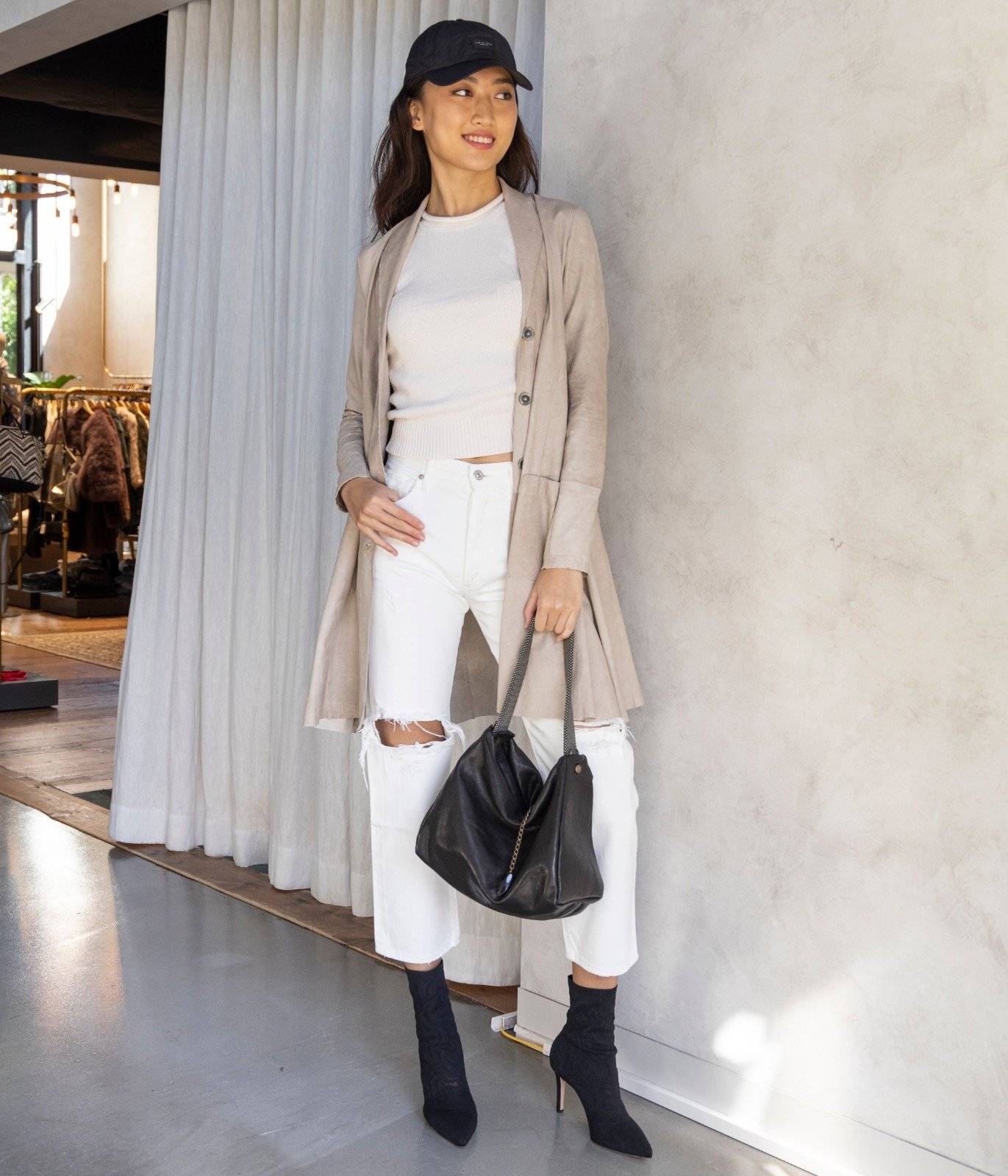 #1. Calling All Busy Mums Looking For Something New And Fresh
If you feel as though you're constantly on the run, we got you. From Citizens of Humanity's premium collection, these boyfriend jeans are relaxed at the top -- meaning they won't grip you too tightly as you bounce around town. We give them bonus points for their vintage button fly.
Perfect Fit: Great on all sizes, but especially for those taller jean lovers with longer legs.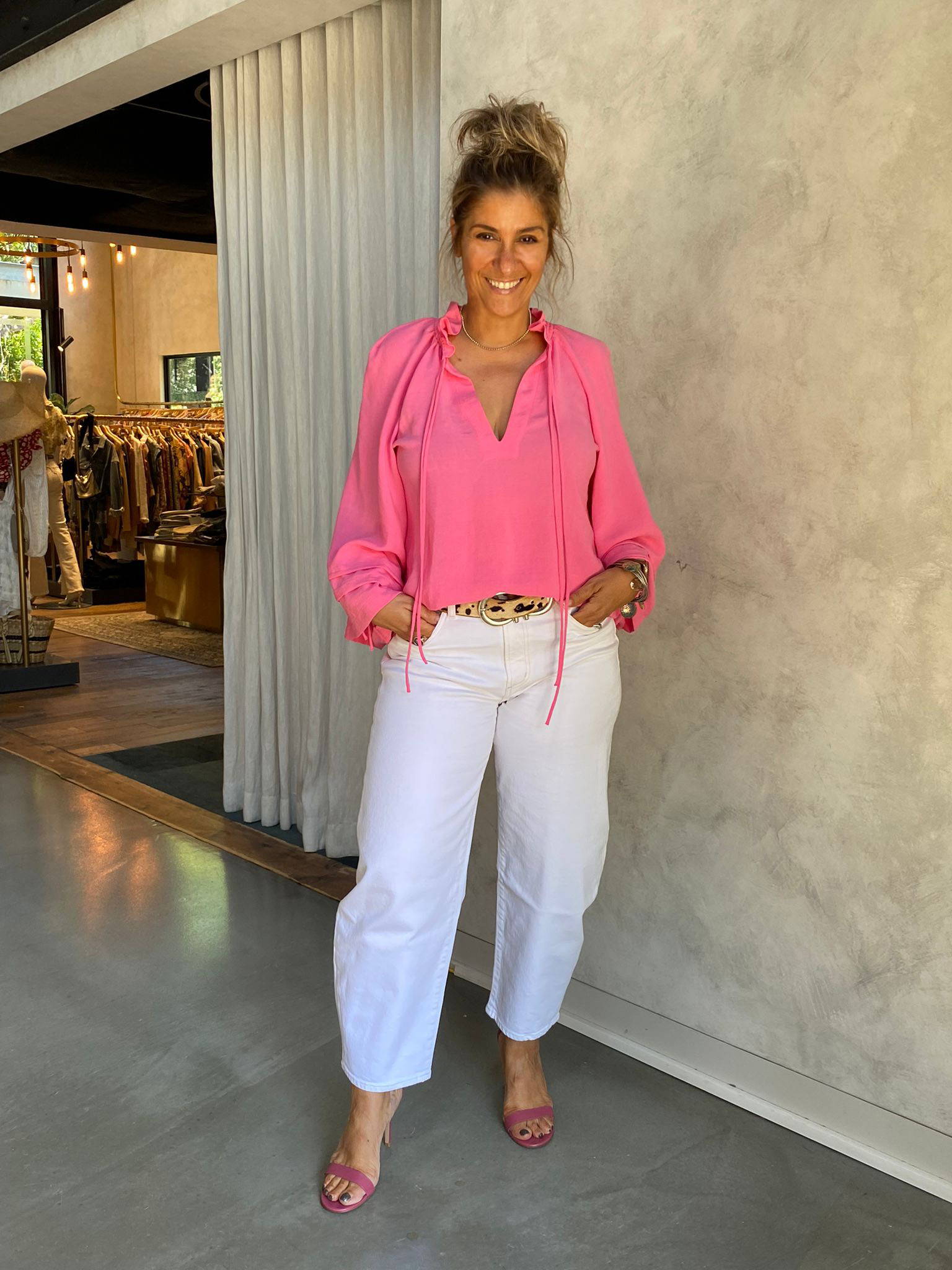 #2. For A Noosa Dinner But You Don't Wanna Wear A Dress
If you don't always want to show your legs, summer style can often feel limiting. If you're looking for dress and skirt alternatives, white jeans can be just as elevated and feminine. The Calista is firm around the seat and loose around the legs. Pair them with your bare feet for a day out on the boat or to Sails for dinner with a stunning blouse.
Perfect Fit: The wider curved leg with tapered ankle is perfect for those that don't love anything hugging their thighs but still crave an interesting silhouette.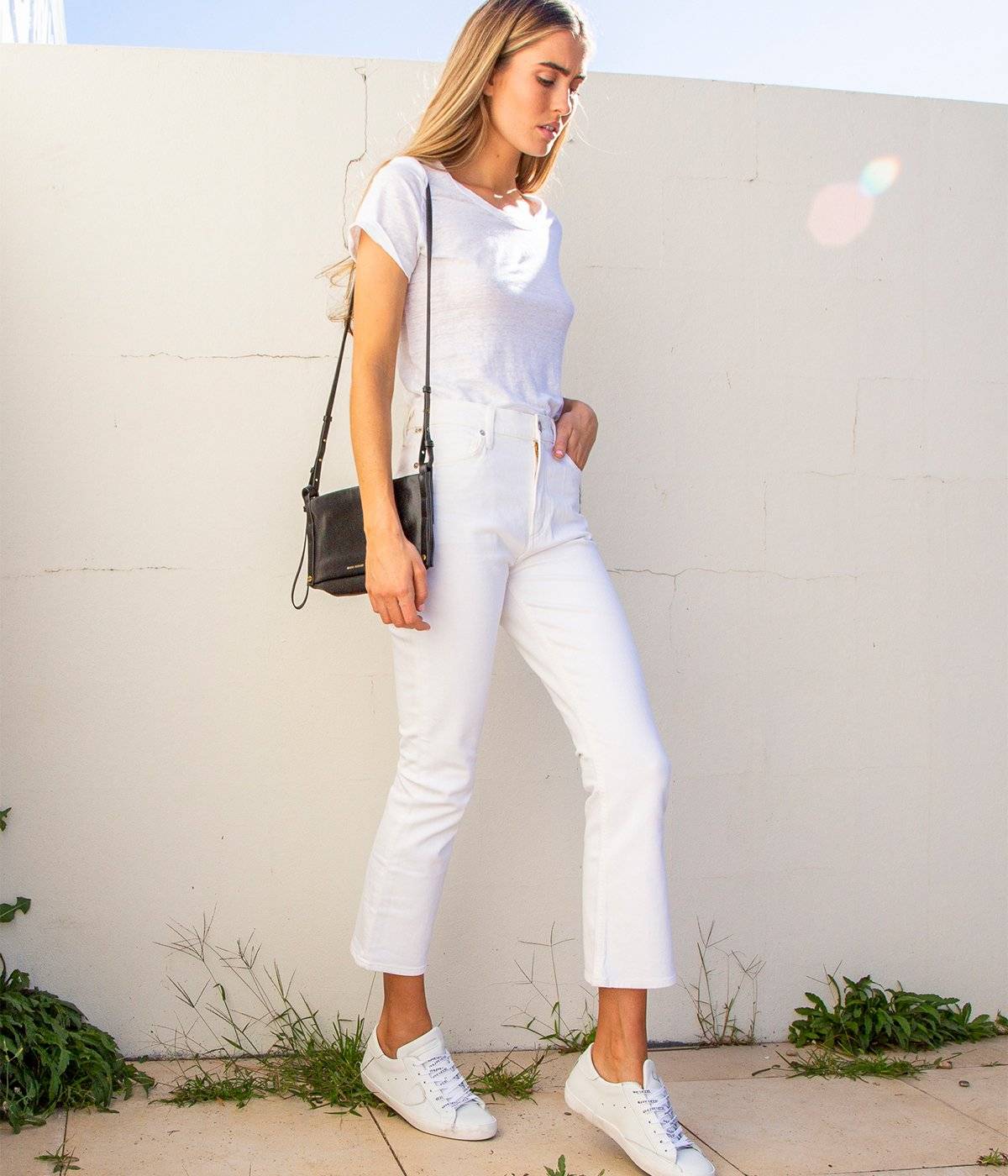 #3. Work Jeans That Feel More Like Tailored Pants
If your dress code allows for jeans but you're feeling bored by your usual blue denim -- the Demi is for you. High-rise, and with a micro kick flare, these jeans add some spunk and pair perfectly with a belt, blazer, and bralette cami.
Perfect Fit: The high-rise and flare create balance and length and look amazing on curvier shapes.
---
5 Magic Tricks To Keep Your White Jeans White
Now that you've found your perfect pair, keep them looking fresh.
1. Wash them less often and on cold. We mean, you don't have to tell us twice to do less washing. The reason being that excessive cleaning breaks down denim fibers, making them more prone to rips and tears. Our suggestion, chuck them in the machine once every five wears to make them last (unless they've got a stain).
2. Stains call for a rinse in hot water. Your stains are most likely to loosen and lift with 30-degree water—think the temperature you'd shower in. If the water's too hot to touch, it could bake the stain in.
If you've split your latte or had a saucy pasta malfunction and hot water alone isn't working -- all is not lost. Nearly all stains are curable with a mixture of warm water and specific ingredients.
Coffee & Grass: Add concentrated dish soap (find it at your kitchen sink).
Ink: Use glycerin-based soap (find it at the chemist).
Red Wine: Go for hydrogen peroxide (find it in your first aid kit -- it's the little brown bottle).
Blot the stain on the outside and inside, gently rub the mixture into the fabric and then rinse well.
3. Take them into the shower and don't be afraid to iron. Make the most of your shower's steam to keep your denim crisp. The steam will move through the fabric and as they air out they'll regain some tightness. Also, we love a good old iron for those moments that call for extra sharp jeans.
4. Step away from the bleach. Although, bleach can make other white items bright -- it's not the case with your denim. Even chlorine-free or colour-safe bleach can turn yellow over time. Also, hit pause on white vinegar. This popular natural alternative also doesn't freshen up your whites.
5. When You Actually Want Shrinkage. Over the life of your jeans, there will be some natural loosening. If you need to tighten them up, we're all for throwing them in the dryer to get them back to their original sizing.
Let us make finding, styling, and caring for your jeans a non-scary process! Book in for a styling appointment today and never look back.
---