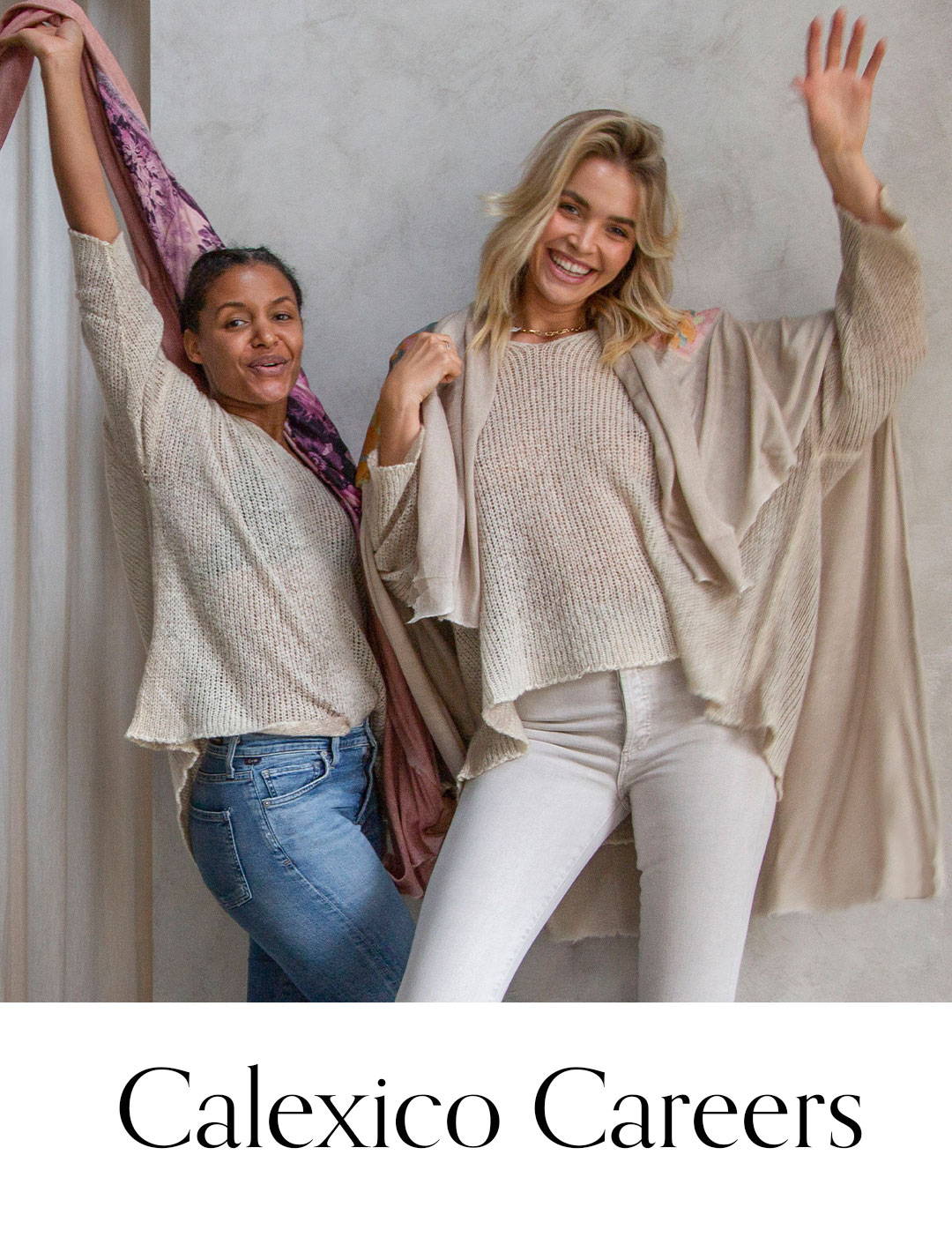 Looking To Further Your Career In Fashion?
Whether it's styling, sales, e-commerce, or the behind-the-scenes glue that holds it all together, we're obsessed with serving our customers and of course, fashion. Fun and fast-paced, a career at Calexico means being part of a team that is always focused on providing an exceptional experience unlike any other. We're always looking for like-minded and self-motivated people to join the Calexico crew. If that sounds like you -- drop us an email or apply for one of our open positions.
---
There are lots of reasons to be excited about joining the Calexico family – from our fantastic team & community events, to behind-the-scenes experiences throughout the year. We're a fun bunch who actually love working and going out together – we want you to be a part of that.
Responsibilities:
Ensure timely delivery of merchandise through consistent communication with vendors, distribution centre, and buying team.

Manage timely entry and maintenance of purchase orders and assists with writing orders.

Generate weekly reports and work with the Buying team to analyse business and trends.

Create weekly best sellers and slow movers product/brand report.

Produce a weekly new product performance report.

Create a weekly brand and product categories performance report. Include but not limited to Sales turnover, Sell through and Stock turn etc.

Update the OTB report on a weekly basis and make sure the new orders and sales are updated.
Role & Requirements:
2 years fashion experience and a passion for the industry.

Intermediate excel knowledge- can create formulas and PV tables.

High level of accuracy and extreme attention to detail. You will be working with numbers!

People person- communication skills and ability to work as a team and independently.
Only successful applicants will be contacted. Address your resume and cover letter to our Director, Nicky Charman.

concierge@calexico.com.au
---
Are you passionate about Women's or Men's fashion? Do you want to share your enthusiasm whilst delivering a truly extraordinary bespoke shopping experience? Then you're just the kind of person we're looking for!
At Calexico, your primary objective is to help clients build their personal style. You will work both by appointment and with walk-in clients. When not with appointments or walk-ins, you will invest time in product training, develop a clientele and drive business through connecting with past clients to create repeat visits.
Responsibilities:
Exemplifies Calexico's selling and service expectations by proactively connecting with clients and asking questions to determine their needs and wants

Develops high volume, long term relationships through genuine connection and interaction

Actively uses client files to follow-up with clients and cultivate referrals

Delivers exceptional client service and builds and maintains strong client relationships

Takes pride in store presentation, ensuring the sales floor, from the fitting room to the counter, is always presentable
Only successful applicants will be contacted. Address your resume and cover letter to our Director, Nicky Charman.

concierge@calexico.com.au



---

Able to work independently & task focused. This is a fast paced environment and a physical role- a lot of lifting, running up/down stairs, ladders.
We require the successful candidate to be able to work across a 7 day roster.
If you have the energy, charisma and drive to commit to a successful and growing company within an exciting and dynamic industry then we would like to hear from you.
Responsibilities:
Ensure all items have a tag, this includes stock room & shop floor product as well as accessories

Responsible for maintenance of the stock room appearance, organisation and ease of finding items, this includes the maintenance of the laybys

In control of the upkeep & general appearance of the store

Ensuring clothing is put away at the end of the day

Steaming & labelling new stock

Liasing with the marketing team regarding new stock

Running for Senior Stylists

Being the go-to person for warehouse questions

Maintain and manage "Never Out of Stock" items
Only successful applicants will be contacted. Address your resume and cover letter to our Director, Nicky Charman.

concierge@calexico.com.au