How To Find Your Perfect White Tee
How To Find Your Perfect White Tee
A White Tee For Every Shape, Style and Occasion

---
Is there anything more iconic than a white tee? We think not. It can be casual and elegant. It plays well with everything in your wardrobe. It's seasonless but also forever in style.
However, don't be fooled into thinking that all white tees are the same; there's a definite difference between a good and a great tee. There's also a boxy cut versus a v-neck, a cotton versus a jersey, an elbow sleeve versus a muscle tee. Finding "the one" can involve a lot of trial and error -- so to help you drill down on your dream tee, we've rounded up our best tees for every woman, size, and occasion.
We love this tee from Nili Lotan for it's slouchy, relaxed fit -- perfect for those who love some extra breathing room. It's also super soft and slightly distressed for ultimate comfort and a dash of street style.
If you like your tees to feel more form-fitting, this Lagence crew neck cut is for you. Crafted from soft and stretchy luxe microfiber with clean-cut short sleeves and a smooth lean fit, it's our favourite slinky tee. Pair with jeans and heels for a great date night look.
A white tee that you can wear to work? Yes, it exists. This Vince ¾ elbow length is perfect for a little extra coverage over the upper arms. It's ultra-soft hand feel just slips on and pairs back perfectly with a blazer for a more professional look.
If you wanna mix up your standard tee with a little detail, this ALC Poole Tee's puff sleeve gives off just the right point of difference. Perfect for those looking for something a little more feminine.
Not only is this tee an absolute steal, it's made in a gorgeous organic, worn-in vintage jersey. At this price, you'll probably wanna get a couple.
Famous for it's borrowed from the boyfriend style, this Anine Bing T-shirt is shaped for that easy oversized feel. Be it weekend or weekday - this is the perfect partner to your favourite denim jeans or shorts!
There's a long list of things that we love about this tee. Firstly, it's truly opaque meaning it doesn't show your bra's color, lumps, or bumps. Plus, it's sporty sleeve cut kicks out to flatter arms and give a slimmer look.
---
Now that you've found your dream tees -- make them last!

Here's Four Things You Didn't Know About White Tee
---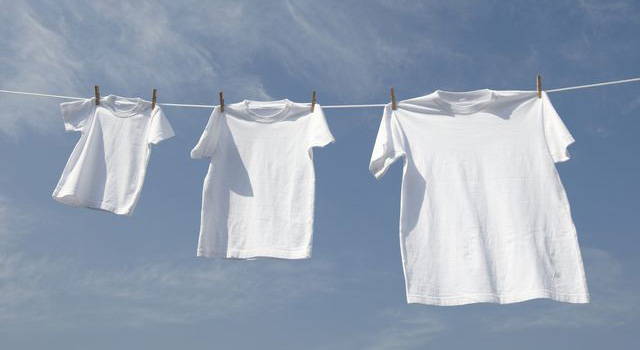 Contrary to popular opinion, tees love to be stored vertically, not horizontally. Nicky's tip is to treat your tees like you treat your blouses. As they're made of cotton and jersey, hanging them in your wardrobe as opposed to folding them up in a drawer helps them keep their shape and lets them breathe.
Tees seem like one of those items that makes sense to price down. However, even though you can find a white tee almost anywhere, you don't want something that's going to fall apart after a few washes. Buy less white tees, but buy the best quality you can afford. Take care of them and you'll look and feel the difference for years to come.
Again, although they're a simple item, white tees deserve the best TLC. There's nothing like getting your tee back from the dry cleaners and it comes back perfectly starch and white. A true born again moment.
4. Moths Aren't On A Mission To Eat Your Tee
You'd be surprised by the amount of people that come in store and think that a moth has taken a tiny nibble of their tee. If you've discovered a small hole in the centre of your tee, it's most likely a result of your tee rubbing against your button fly. If our tees are tucked out they can often press against the button and a seatbelt, or kitchen bench, or cross body bag. Over time, it rubs to the point of making a hole. Our simple solution: Tuck in! It looks chic and saves your tee!
---