How To Master Pregnancy Style Like A Pro
---
How To Master Pregnancy Style Like A Pro
---
If you shudder at the words "maternity wear" or still want to look and feel like you as your body starts to change -- we're here to tell you that you've got lots of options! Since you're probably busy with prenatal classes, a thousand doctor's appointments, and researching strollers, we thought we'd take one thing off your plate by pulling together our best bump-friendly options that are as stylish as they are practical. Pick up this capsule wardrobe and you'll have pieces that'll carry you through your entire pregnancy.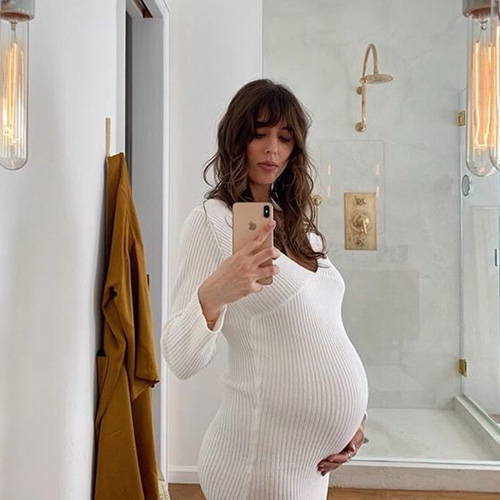 ---
Who said you had to only buy jeans from the Maternity Wear department? These super stretch ankle legging-style jeans feature a skinny fit that contours the body from hip to hem, and has a modern cropped ankle length with clean trim. And since your body is already supporting the extra weight of your growing bub, you'll be pleased to note that these jeans are super light and designed in 10 oz denim. Nicky lived in these well into her second trimester and ended up picking them up in a bunch of different washes.
---
The Rib Tank Midi for Luxury Basics
Your precious bump is your greatest accessory -- show it off in a way that is sophisticated and feels amazing against the skin. This Silk Rib Tank Midi Dress from Enza Costa is crafted with featherweight blends of fine cotton, cashmere, and silk. Black is also a flattering colour in this type of cut and can be easily paired with a denim jacket, chunky knit, or stylish accessories. Plus, it's completely machine-washable because let's be honest, no expecting mama has time for a hundred trips to the dry cleaners.
---
The Elasticated Waistband Shorts for Everyday Comfort
These high-rise shorts feature every mum-to-be's dream: an elastic waistband. Made in a luxe and breezy linen and with an easy pullover silhouette, these shorts are the perfect piece for around the house or mum's group coffee. An absolute pregnancy must-have. Timeless, comfortable, stylish, made in 100% cotton, and with the softest waistband for growing bellies-- you'll be living in these for the best part of nine months.
---
The Tailored Pants for Nights Out
Have an event or an anniversary dinner coming up? Avenue Montaigne's incredibly sophisticated pants made in their famous stretch fabric, are loved by women the world over, and come in a bunch of colours from emerald to classic balck. Each pant hugs the thigh and has a slight kick flare that elongates the leg to create an amazing silhouette that balances your bump. Bonus points for the fact that they're also slip-on!
---
The Summer Dress You'll Still Love After Baby Arrives
It's amazing the amount of compliments you receive when you wear the Fiore dress at any time of your life. However, pair this gorgeous Balinese hand batik print with your pregnancy glow and you'll light up any room. These stunning silk dresses are made generously, and are intentionally voluminous, making them perfect for mums-to-be (especially those expecting in the summer). From Noosa-born and LA-based designer, Natalie Martin, they have been spotted on everyone from Miranda Kerr to Rihanna. The fabric covered button closure to the neckline can be kept done up if you prefer a modest look or unbuttoned to create a deep v-neck. Pair with stylish flats for a boho-inspired breezy bump look.
---
The Sneakers That Feel Like A Cloud
Unfortunately swollen ankles can be an unwanted result of bringing a bub into the world. On the flip side, the right shoes can dramatically ease joint pain and we've got the chicest sneakers that do just that. Merging the creative flair of French designer and artist, Philippe Model, with the excellence of Italian expertise, these sneakers are as chic as they are comfortable. Honesty, any Philipe Model is going to support your feet but we love the TRPX as it's sinuous sole is made in a handmade microporous EVA 'colour block'. Plus as it's three centimetres high, it provides extra cushion to some of the other styles. It's also incredibly versatile and pairs beautifully with shorts and jeans or a rib midi.
---
The Cami That Keeps You Feeling Sexy And Supported
When you're pregnant, you want your bump to feel safe and supported but you also want to still feel feminine. For this reason, we love supporting our mums-to-be with the Minnie Rose Cami. This classic tank has a flattering v-neckline and adjustable spaghetti straps to grow with you. Plus it looks hot as a stand alone and also goes under anything. Get one in every colour!
---
The Long Sleeved Top With Extra Room
This is a staple that every woman must have in their wardrobe and as it has extra length, it's amazing for pregnancy. It is so versatile, and depending on your style, you can wear it back with a bright colored scarf or a fabulous bold necklace. Perfect for a day of errands, or over your gym gear if you're heading to prenatal pilates or yoga. However, it's also elevated enough to wear it out for dinner with a pair of black jeans. Incredibly lightweight and its inclusion of 15% cashmere, makes it soft and amazing on the skin. A Calexico favourite, we stock them in every colour! They do run true to size but are super stretchy, but if you're pregnant then size up.
---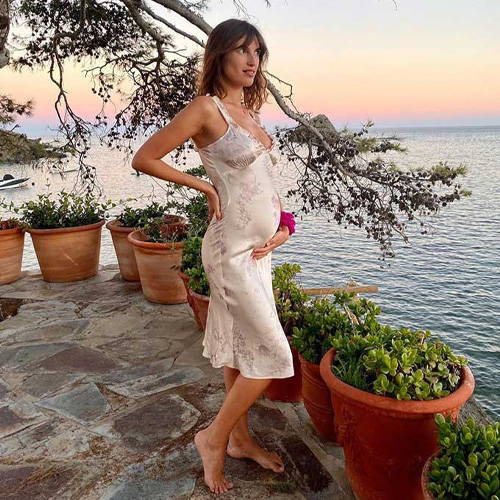 If you've questions about sizing during the course of your pregnancy -- or are looking for further help in building your capsule collection -- then pop in for a complimentary styling session with one of our friendly stylists.
---