What We Love About Nick Fouquet
---
What We Love About Nick Fouquet
The backstory, inspiration, and style tips behind LA's most iconic hat
---
Nick Fouquet has been coined the modern-day Rad Hatter. His eponymous boutique is based out of Venice Beach and it's a true embodiment of Los Angeles' burgeoning creativity, free spirit energy, and effortless street style. Maybe you've already seen these hats on a few famous heads from Bob Dylan to Gigi Hadid? But don't think these hats are for the cool kids only. Although they are definitely iconic pieces that are full of story and crafted to last a lifetime -- they're also surprisingly easy to wear, exceptionally versatile, and look good with nearly everything in your wardrobe. Learn more about these incredible hats, the man behind them, and tips for choosing your own Nick Fouqet.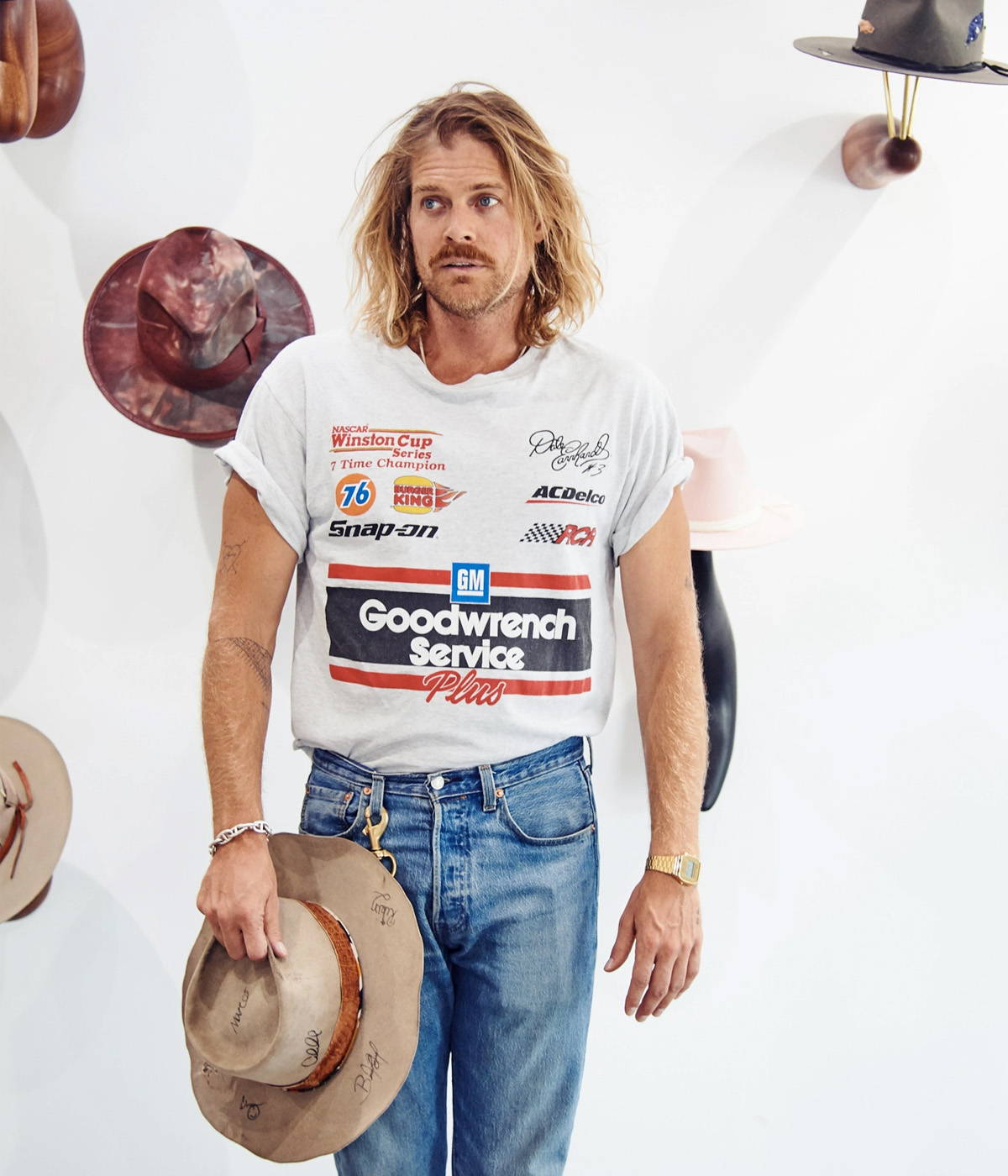 ---
1. The Signature Matchstick

On every Nick Fouquet, you'll find an actual or embroidered matchstick. As his signature sign, it's a symbol of the spark of creativity. It's also symbolic of everything about Nick Fouquet, subtle but cool. When you wear a Nick Fouquet hat, it's not the first thing people notice, but once they spot it, it's the thing they love the most -- and remember.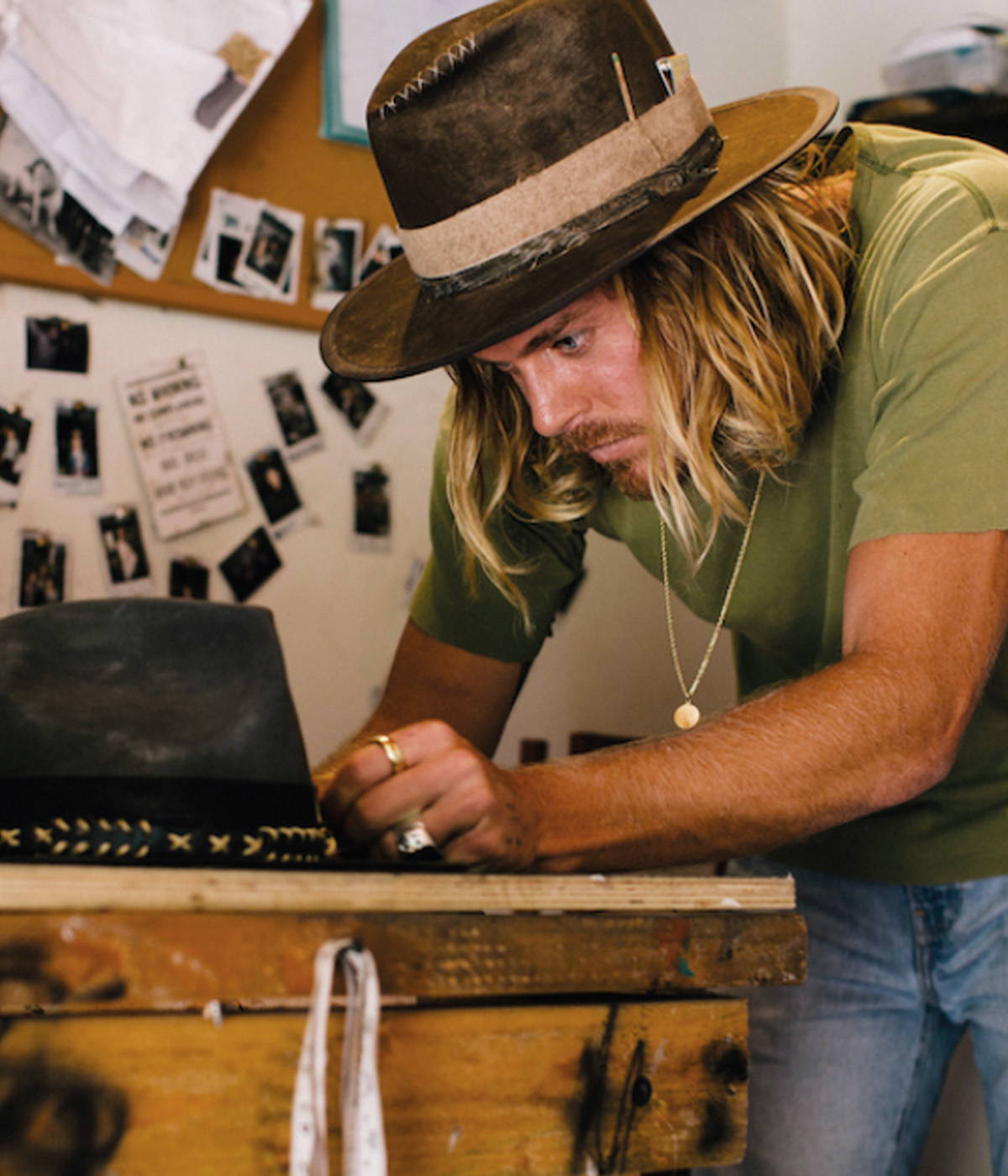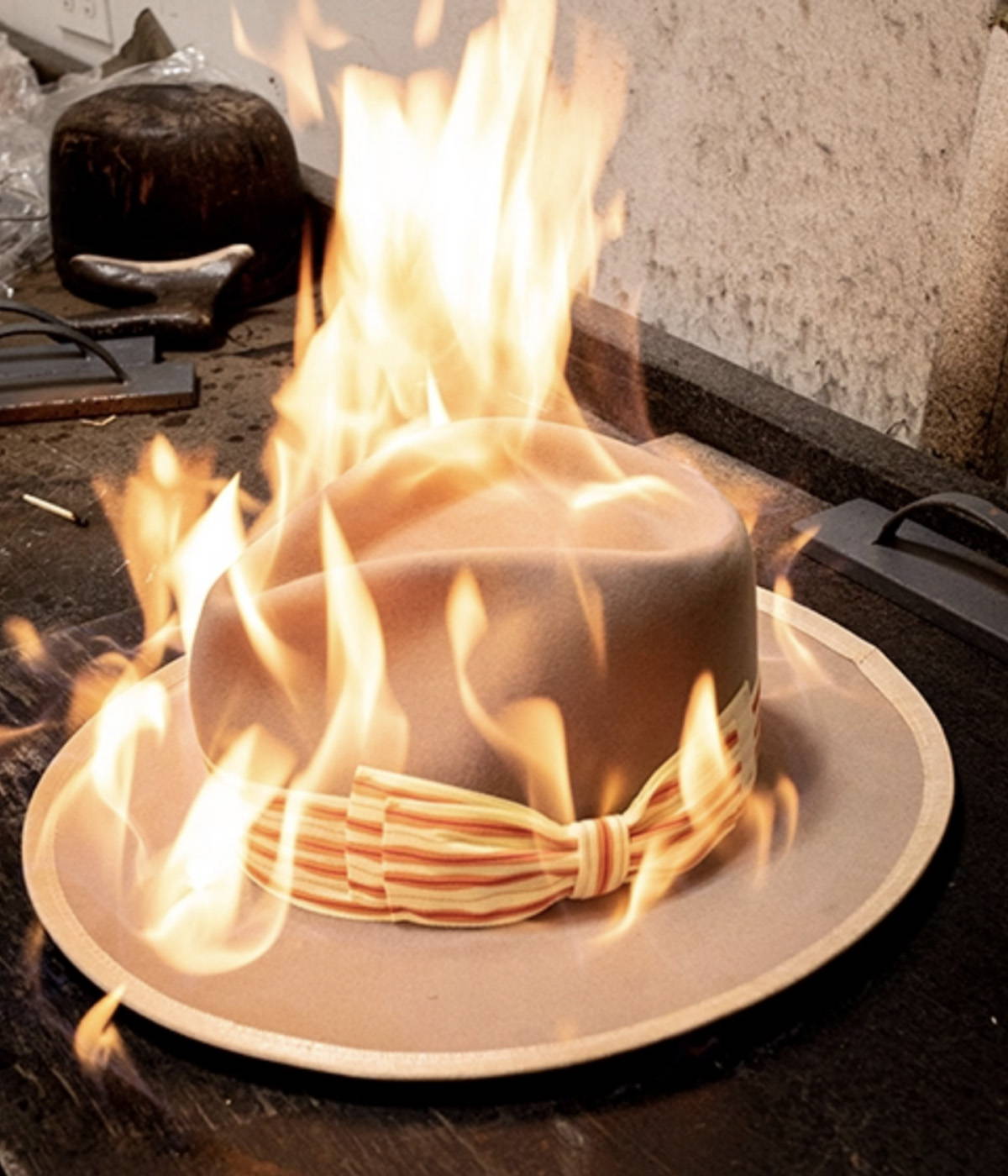 Not a stranger to the industry, fashion is in Nick's blood and you may recognise his Dad, Bernard Fouquet, from all those OG Tommy Hilfiger campaigns. In fact, Nick's Dad has been a huge part of his inspiration process and he has specifically created hats that can transcend age. The fact that these hats can look as incredible on Anjelica Houston and David Beckham as they do on Kendall Jenner and Jennifer Lopez is all the proof we need.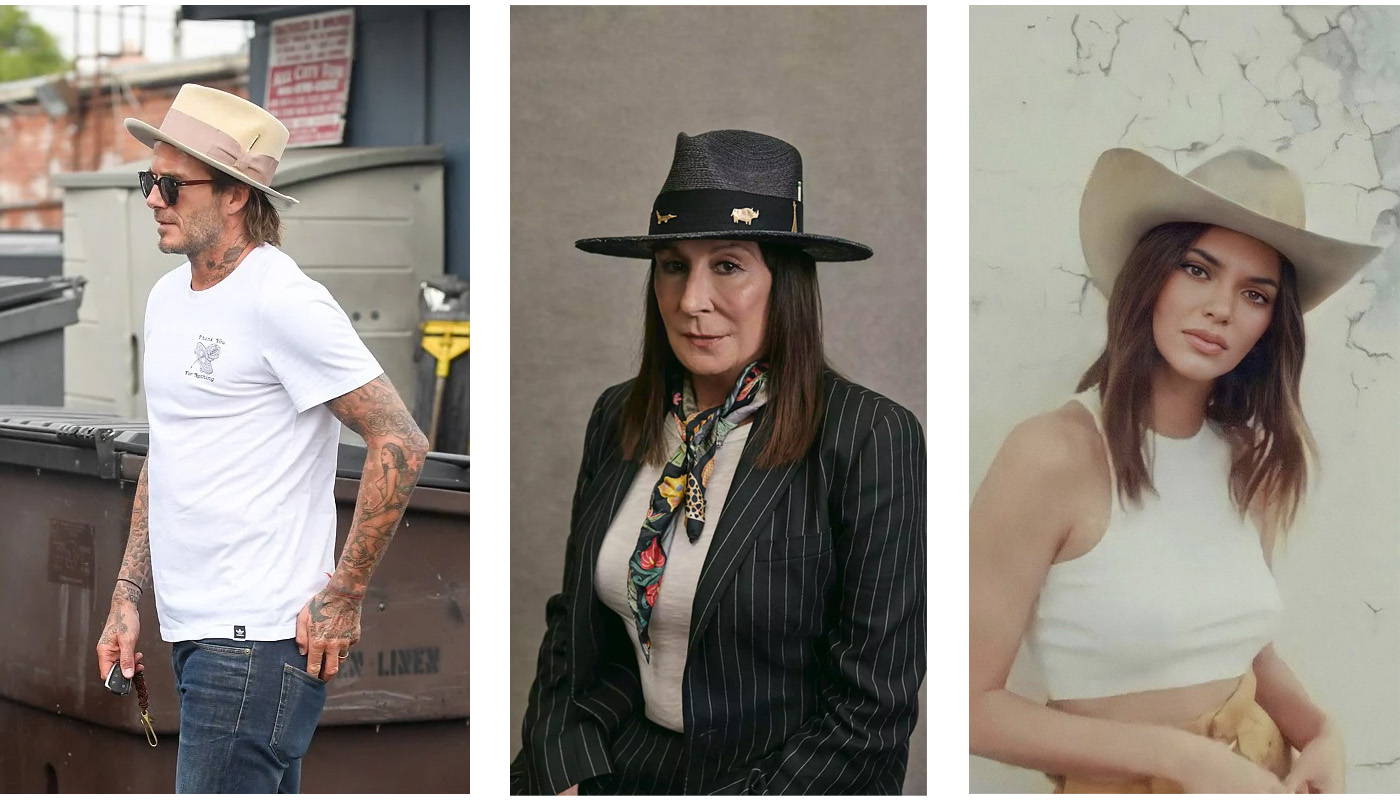 More than any other hat, a Nick Fouquet can take you everywhere -- from an elevated off duty look as proven by Rocky Barnes, to a beach and bikini vibe (with your ex) just like JLO, to even Princess Eugenie's royal wedding worn by Cara Delevigne. There's just something about these hats that can take an outfit to another level, we think it's the fact that they walk the perfect line between bohemian and timeless. Basically, they're the exact amount of cool without being too much. As Nick said himself, "a hat is already a statement on its own because it's a hat. It seems more appropriate to focus on the style and quality, rather than something very over-the-top."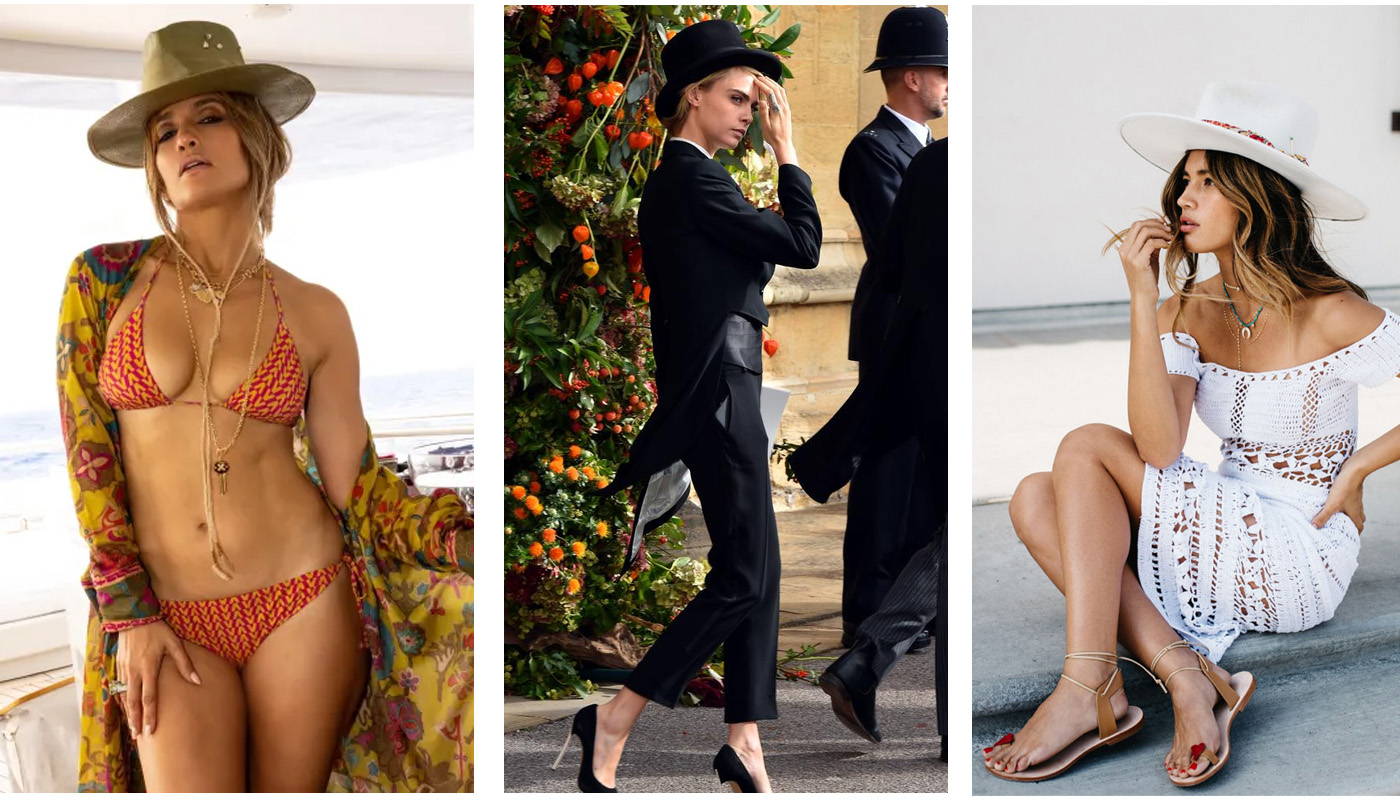 4. Every Hat Has A Backstory

Born and raised in the south of France, Nick has spent time of varying lengths all over the world from New York to Colorado, Australia to Patagonia. After he'd quenched his wanderlust, he landed in Los Angeles and began his hat-making journey. Yet his experiences and appreciation of foreign cultures continue to weave their way into his creation. One of our most loved Nick Fouquet hat backstories is the Broken Soul in Blackout. Its painted metallic lines are symbolic of Japanese practice, Kintsugi. Translated "Kintsugi" means "golden joinery" and is the art of repairing broken pottery with gold powder, the idea being that our cracks are something that makes us more beautiful rather than needs to be disguised.
If you're drawn to one of these hats, there's a good reason. As Nick says, "people who wear hats are a kind of rare, naturally selecting tribe. A hat is not a necessary element, like a shirt or a shoe. And, in that way, it attracts and identifies the intrinsically unique." So, if this hat is calling you even a little bit, there's probably a part of you that loves creative expression. It's all about choosing a hat that feels close to your personal style. Perhaps your mind is already racing at the ways the Smoke Show In Beaver could be your newest statement piece or the ways you could colour block the Orange Sunshine In Tie Dye with your new summer looks. On the other hand, if your heart is saying hell yes, but your inner critic is saying "could I really pull it off?". You absolutely can. Try starting with a simpler design, smaller brim size, and a more neutral colour like the Chamomille Lane in Cote Sauvage or Aquatic Dimensions in Boneyard that easily complement your existing wardrobe.
---
Feeling inspired to own your first or fourth Nick Fouquet? You will not regret bringing this hat into your capsule. It's an instant style update that adds a touch of bohemian beauty and effortless cool. Timeless and crafted to last, you'll look forever in style with this staple investment.
---