3 Cool Girls Style Philippe Model
We enlisted the help of Pip Spiro, Katie Moubarak, and Jenny ThornE to style our Calexico exclusive sneakers.
It's no secret that we're obsessed with Philippe Model, and it was an honour and a dream come true to recently collaborate with the Parisian designer on our very own Calexico custom sneakers.
To celebrate our launch, we invited some of the most creative, effortless, and coolest girls to the store to style our Calexico x Phillipe Models. Although their personal styles differ, each of these women creates a look that is both incredible and uniquely their own. Check it out below.
Pip Spiro
Artist, Mother of Three, and Ocean Addict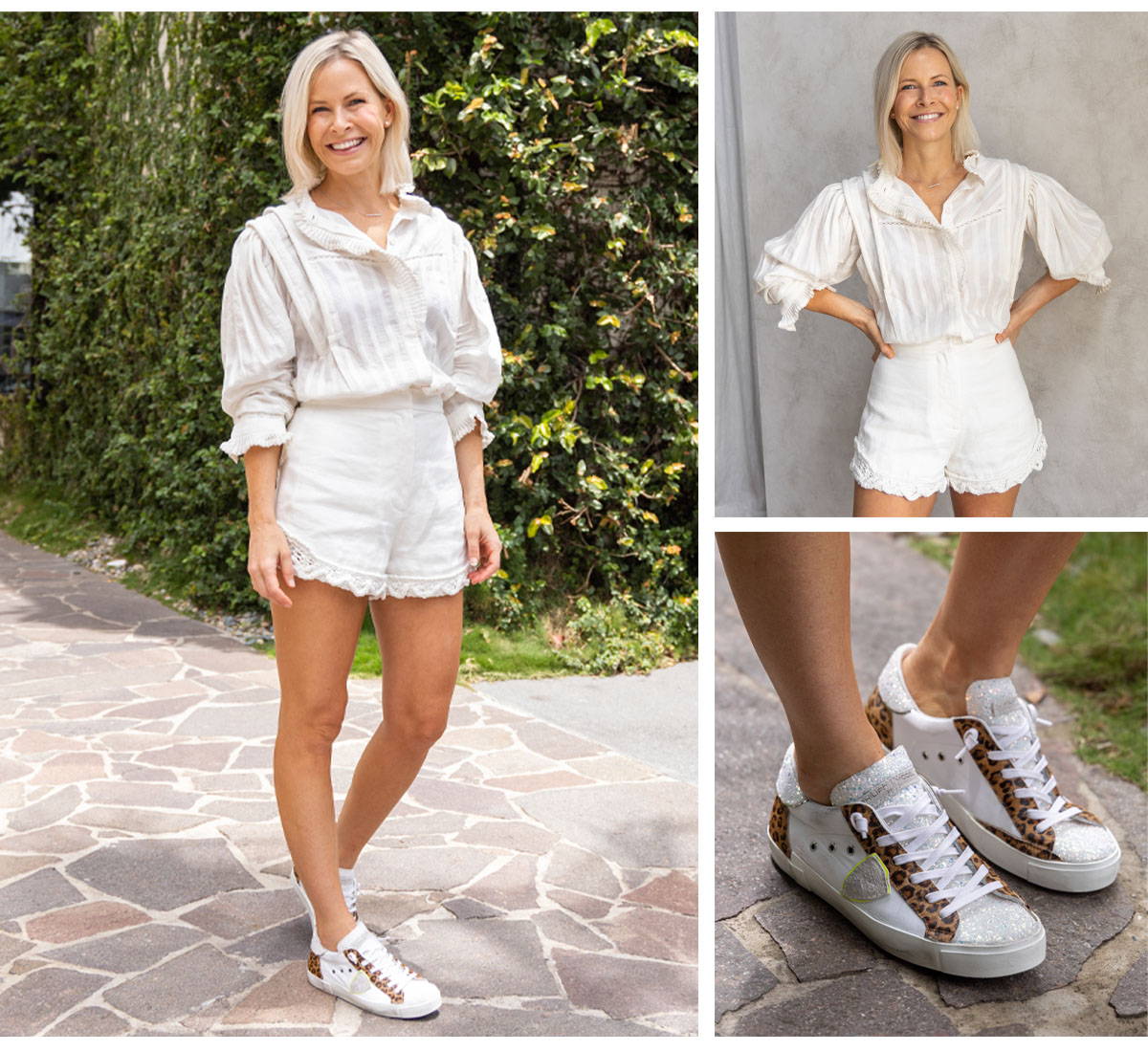 Pip Spiro is an Australian artist best known for her vivid, large-scale still life and botanical-themed paintings and lives with her husband and three young kids in New Farm. A master of photorealism and watercolours, there's something very Australian about her pieces. Pip's first solo show 'All Her Glory' held on James Street in Brisbane was a complete sell-out, she's also been featured on The Design Files, and recently launched a textiles line with her sister-in-law Anna Spiro.
Inspired by her natural surroundings, Pip's art-making intention is to give space for the simple appreciation and connection with beauty. It's a sentiment that's reflected in her personal style and we love the way you'll find Pip pairing her Philippe's with feminine tops, day dresses, and simple cotton shirts; a look that makes her feel comfortable but put together. She also likes to dress in blocks of colour or all one tone, and more often than not that's white. Plus wearing white takes some decision-making out of the morning as it makes up most of her wardrobe. Picking up kids all day and moving around the studio also requires practicality, and therefore she's never not wearing sneakers.
How Pip Styles Her Philippe Models: For a feminine off-duty look, Pip pairs the Alexis Hamilton Short in Moonlight with the Isabel Marant Darya Top in White and Phillipe Model x Calexico PRSX with a pop of fine jewellery in the form of an Adina Reyter Pave Bar Necklace in Silver.
Katie Moubarak
Restauranter, Marketing Guru, and Cool Girl By Nature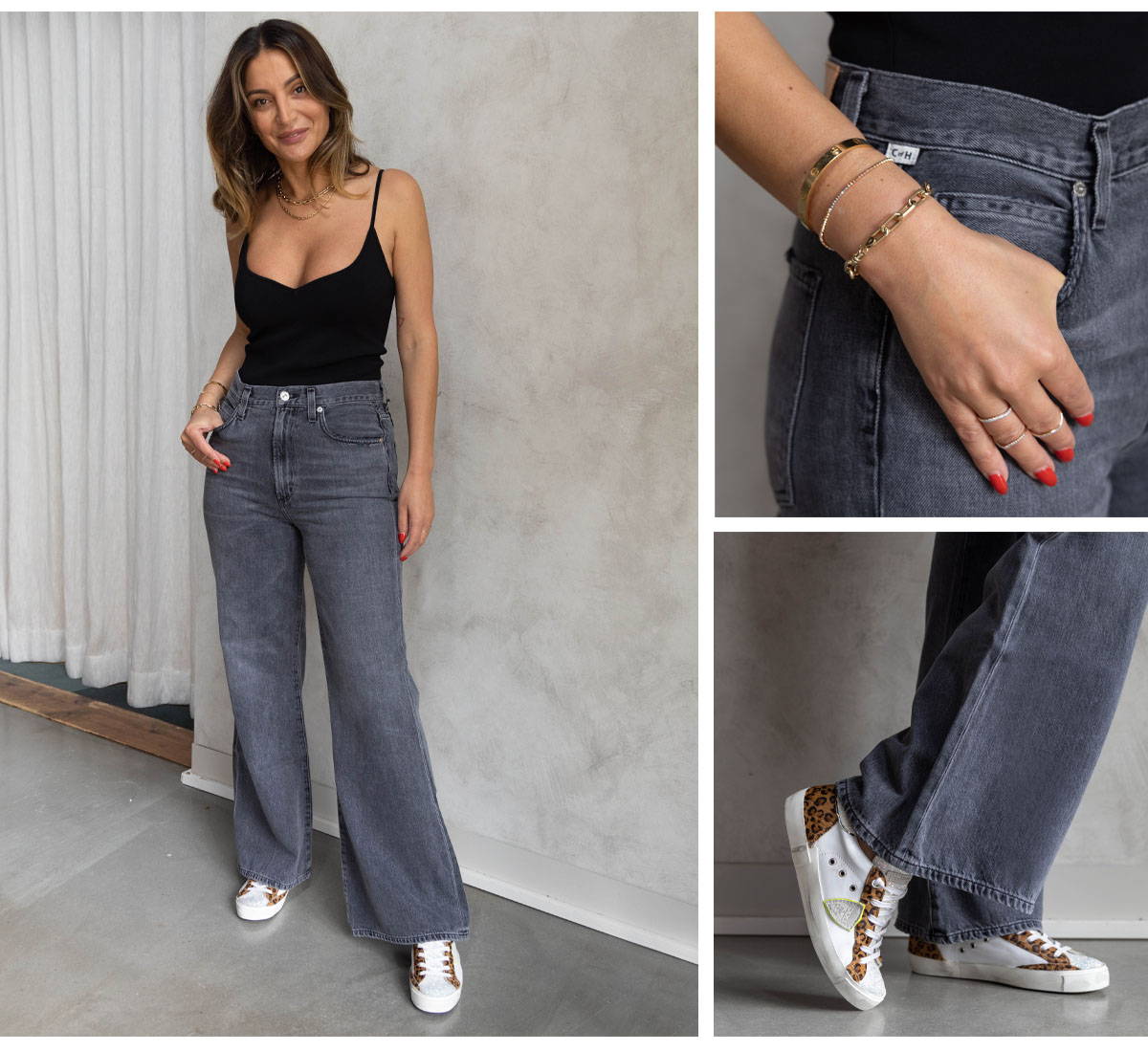 One of Calexico's style icons doesn't reside in Los Angeles but is in fact a local girl -- Katie Mourbarak -- or as she's more affectionately known, Moubs. As part of the iconic Moubment Group that runs Gerard's Bistro, restaurants and marketing is in her blood. Katie is also the Brand Marketing Director at Howard Smith Wharves and is just all-around cool. Her down to earth confidence is also reflected in her style that is simultaneously effortless, edgy, and elegant.
You'll find Moubs mastering the high-low trend, pairing Philippe Models with tailored trousers, flared jeans, and silk camis (most likely in black) as she bounces around HSW coordinating with chefs on menus, interior decorators on aesthetics, and PR on guest lists.
How Katie Styles Her Philippe Models: To achieve Katie's elevated street style look, style a pair of Citizens of Humanity Rosanna in Karma, with a Minnie Rose Spandex Cami in Black, the Phillipe Model x Calexico PRSX and an Adina Reyter Italian Chain Gold Link Necklace.
Jenny Thorne
GP, Local Legend, and Always On Foot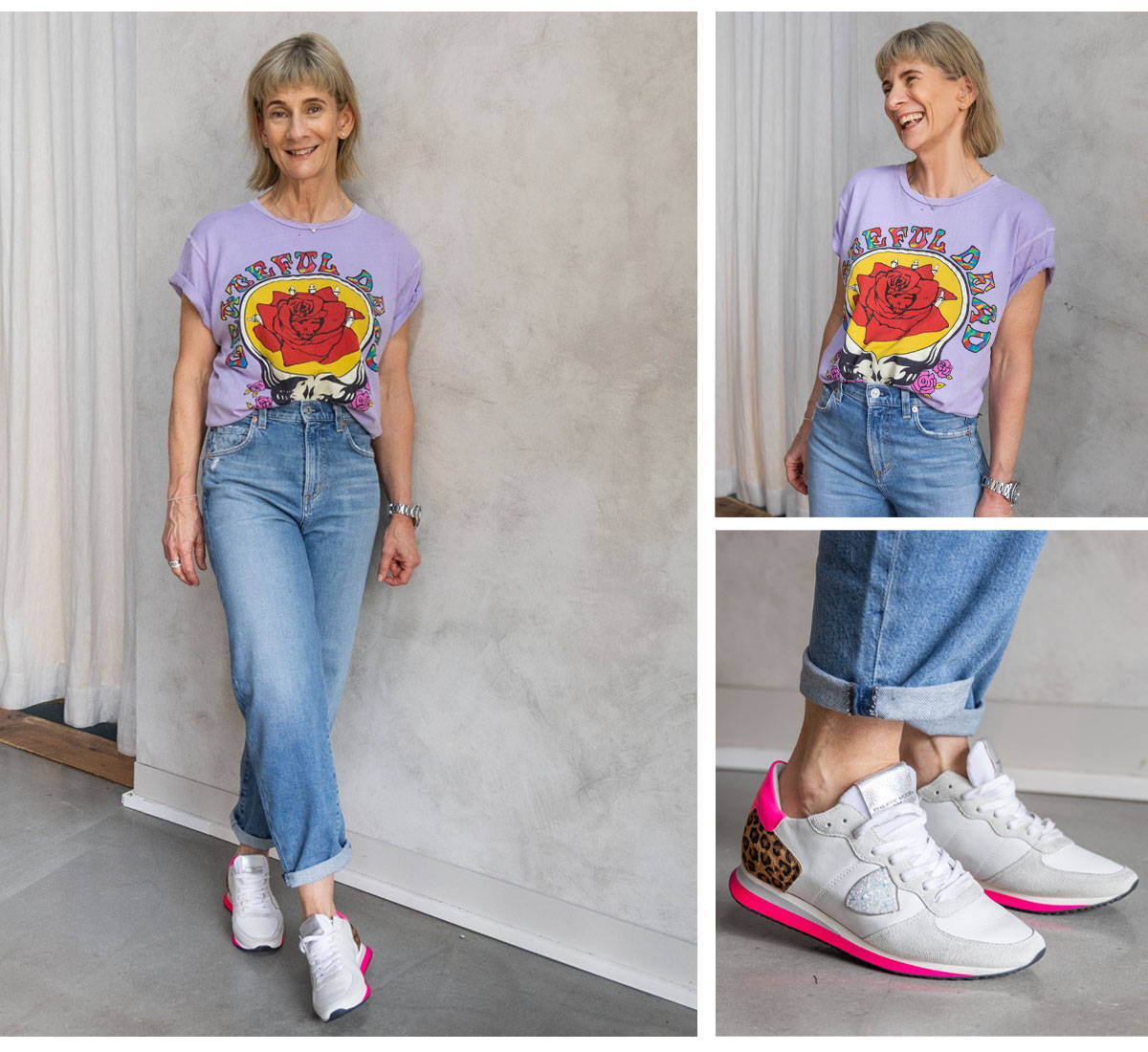 When it came to thinking about the perfect people to model our Philippe Model collaboration, Jenny Thorne's name definitely came up. Jenny is a Calexico OG and was one of the first people to scoop up our first ever drop of Philippe Model back in 2010. Over the years she has added to her Philippe collection. She's a lover of the brand's designs but also their structure and support. As a GP, she understands the importance of good shoes, especially if like her, your preferred mode of transport is walking!
In her down time, you'll find Jenny walking around New Farm and Teneriffe (most likely scooping up some Beccofino's baked goods) or preparing for her yearly hike. To complement her active lifestyle, Jen will team her Philippe Models with a looser cut jean that doesn't grip too much around the thigh, and a comfy tee that adds a little edge.
How Jenny Styles Her Philippe Models: Love Jen's look? Pair back a Madeworn Grateful Dead Tee in Lilac, with our best-selling Citizens of Humanity Calista Jeans in Daydream, and finish with the Phillipe Model x Calexico TRPX.