The 3 Pairs Of Jeans Every Guy Needs
The 3 Pairs Of Jeans Every Guy Needs
From the office to the footy, get your denim essentials sorted
---
Jeans have been guys' go-to pants ever since Levis Strauss sold them to miners during the American Gold Rush. Today, they are still the holy grail of a man's wardrobe, and for good reason. You can wear them to basically anything outside of a black-tie event, they last for years, and for extra bonus points, they don't need to be dry cleaned.
Jeans can take you from the office to a night on the town, to a simple hang at home -- but nobody wants to be seen in the same pair of jeans every time they step out. So, to help you add some variety to your denim department, we enlisted our Senior Men's Stylist, Brook, to nail down the three types of jeans every guy needs.
---
Once you try these jeans on, there's no turning back. Citizens of Humanity are famous for nailing elevated street style. We love that this pair of jeans is polished enough to take you most places but never makes you look overdressed. Add in the versatility of its darker wash, and you'll return to these jeans time and time again. Brook says, "These truly fly out the door. After someone buys their first pair, they'll usually be back in the store for another pair because they find they live in them so much and look great on everyone."
---
And now for something a little more casual. Mix it up on your days off by opting for these relaxed and vintage-inspired jeans. The medium hue of this denim freshens up any weekend look and can take you from cafe culture to arvo drinks. If you're also looking for summer jeans that are not going to make you melt, these guys are made from a lighter weight and comfortable stretch fabric, the perfect option for those warmer days that call for something more elevated than shorts.
---
The Elevated Tailored Denim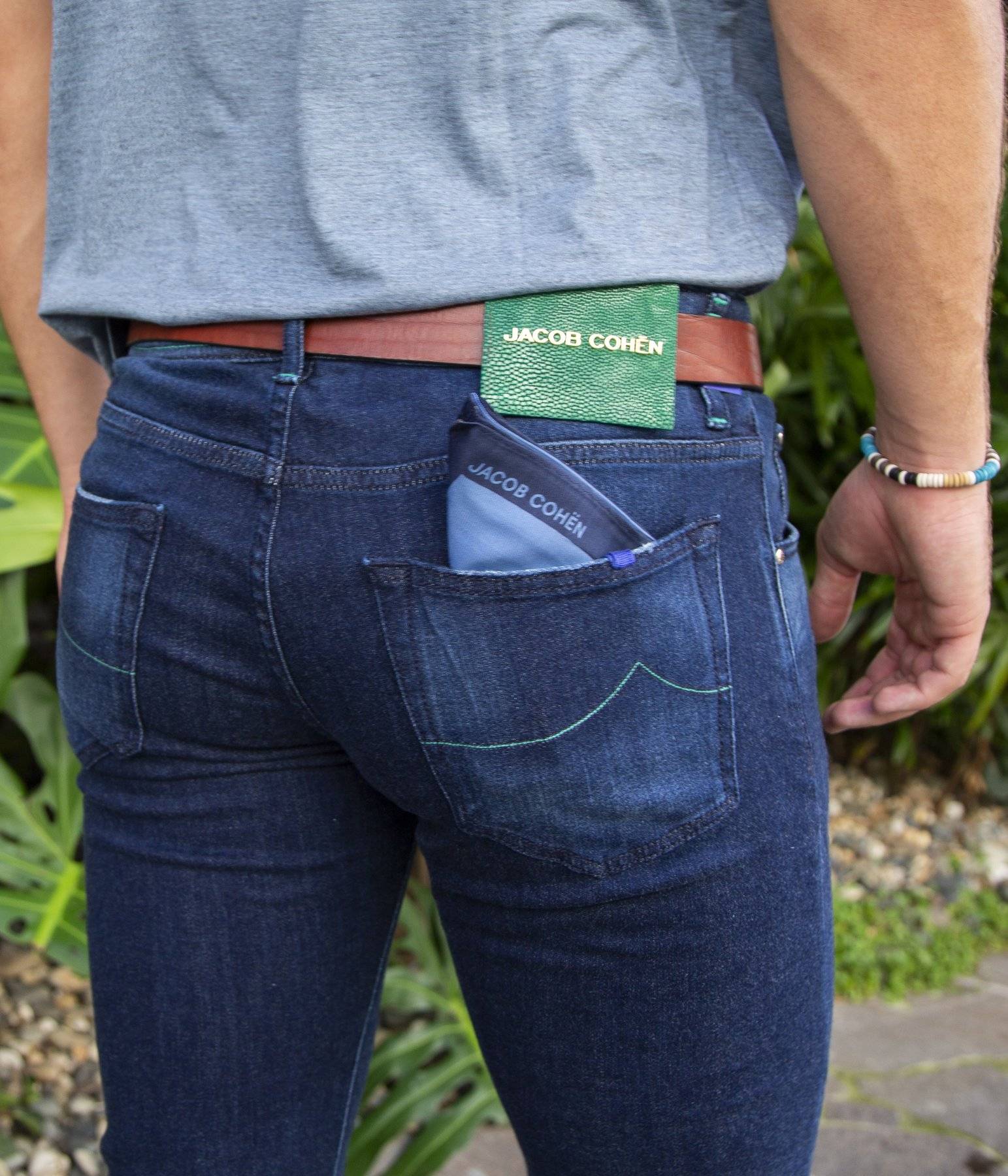 Limited Edition Comfort Denim Wash in Dark Blue Wash
Every guy has a pair of "good" jeans, you know the ones you save for nice dinners out, client meetings, and birthday bashes. If you're in need of a "good" jeans update, these luxury jeans from Jacob Cohen are expertly crafted to fit any dress code. The label's vision was to create a product suitable for both casual and formal wear, creating slim-fit jeans for men that could finally be worn with a blazer -- and they delivered. It's all thanks to the brand's focus on sharp tailoring techniques. Their quality construction also ensures an amazing fit on guys of all heights and sizes and most importantly -- they're comfortable. Plus, each season they release the style in a unique wash. We're also a big fan of their unique labels like this edition's tag that comes in an emerald green stingray leather, (badass we know).
Handmade in Northern Italy from Japanese Kurabo denim, If you're a jeans lover, you'll never regret investing in a pair of these.
---
A simple denim refresh can be a total game-changer. Just three pairs can give your entire wardrobe more versatility and stretch for seasons to come. Shop our full denim range online or in-store. If you're in need of complimentary personal styling -- book an appointment with Brook or any of our expert stylists.
---