JEWELLERY LAYERING: A CALEXICO STYLE GUIDE
JEWELLERY LAYERING: A CALEXICO STYLE GUIDE
How to Layer Every Type of Jewellery
---
We've been chatting a lot about layering of late. And today, we aren't just talking about your latest winter look. Layering fine jewellery can seem like an art form -- but if you have the right treasure trove of pieces, it's actually incredibly simple to elevate your favourite looks.
We sat down with Eva, our jewellery styling expert, and got her picks, tips, and tricks for adding a pop of shimmer to any outfit. Eva always says...
"Jewellery adds a finishing touch to any outfit. It's all about having fun but mostly adding that sparkle to easily dress up any white tee and jeans look."
---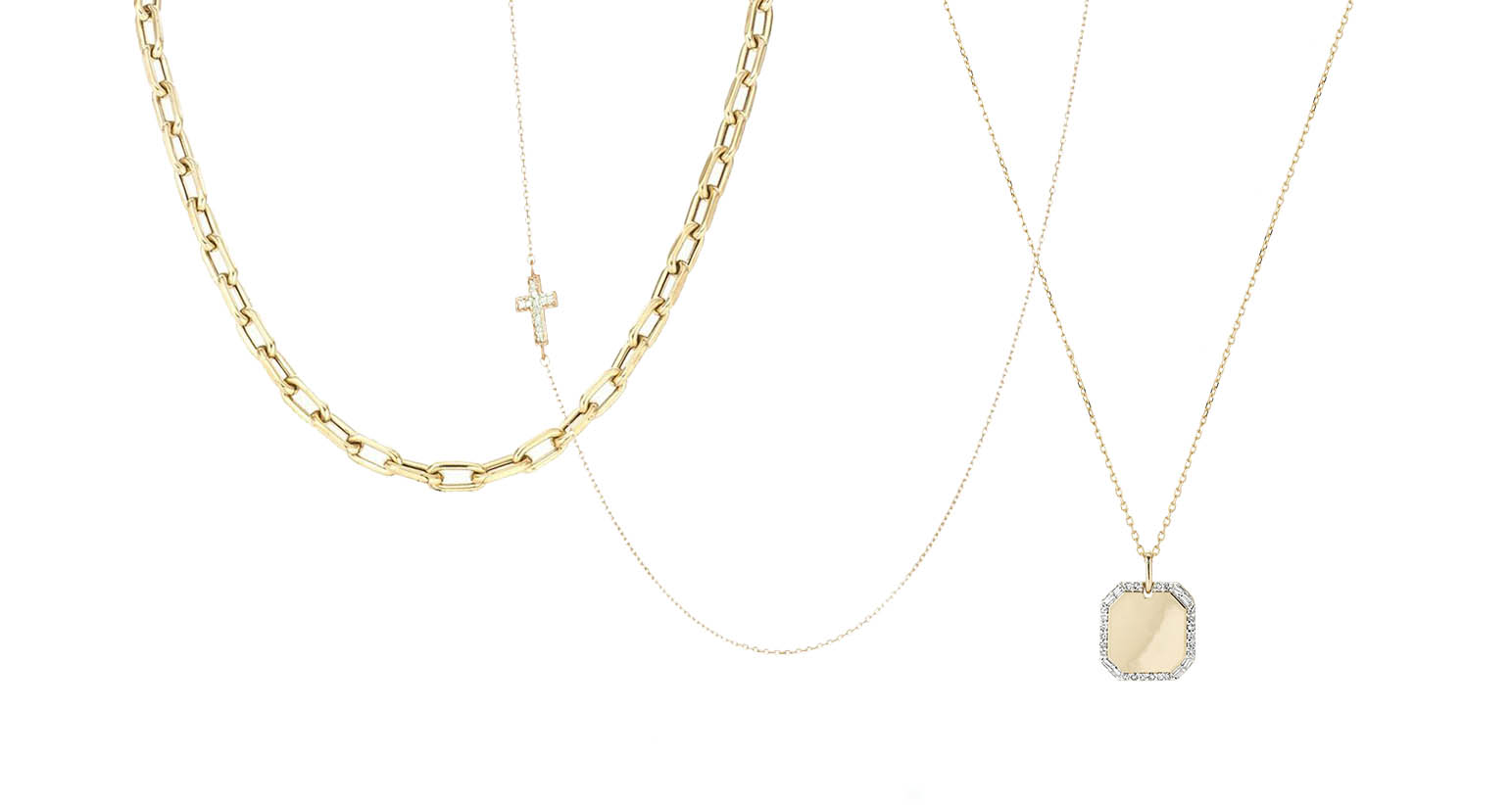 Our major rule for necklace layering is actually pretty simple: short, medium, long.
Short: When you're wearing a lot of different pieces, you don't want to feel too much weight around your neck. Choose a chain that grounds your look like this Adina Reyter piece that adds a touch of contemporary style and has hollow links to keep it feather-light.

Medium: Next, you need one mid-length piece to sit beneath your chain. Choose something sentimental you can wear every day; perhaps it's your initial, a cross, or simple heart to represent a loved one. We're loving this Adina Reyter Solid Pave Cross Necklace in 14K Yellow Gold.

Long: Finish off with a statement pendant that drapes lowest on your décolletage - this gives your jewellery a focal point. We are swooning for this Pave Gold and Diamond Baguette Dog Tag that adds elegance with hand set diamonds.
Eva's Tip
Swap different lengths and thicknesses in and out of your rotation. A great hack for adding or taking away length from your necklace collection is through the magical powers of a Maya Brenner chain extender; we've got a number of different lengths in gold and white gold. 
---
Wear your bracelet sleeve jacket and show off the jewellery party on your wrist. It's your opportunity to really mix and match and have some fun.
Start with something solid closest to your wrist, but keep it delicate like this Italian Chain Link Bracelet In 14K Yellow Gold.

Add a lighter layer above with a pop of colour like this elegant and bright Turquoise Tennis Bracelet.

Finish with a drop detail to give your look movement, with a fine chain detailed bracelet like this gorgeous water drop.
Eva's Tip
Rule 1: Choose a sleeve length that features your jewellery. Hero your bracelets with a tank, capped sleeve tee or a three-quarter length shirt. The 2nd Rule: Be playful! You'll find that bracelets are often the piece jewellery designers use to play with colour, shapes and movement. So, there are plenty of opportunities to get creative!
---
Big, smaller, smallest. Start with the largest and move your way back along the ear.
The Big hoop: Add a statement but keeps it sophisticated with this big hoop it shimmers with handset pave diamonds.

The Smaller hoop: Play with proportions by adding a smaller hoop in a similar shape. We love to pair this contrasting baguette diamond hoop with our larger hoop above.

The Stud: Finish off your curated earrings with a stud. If you've got quite a few piercings, opt for something small enough to fit your upper lobe, like these Super Tiny Triangles.
Eva's Tip
Always place your biggest hoop closest to your jawline. As you work your way up your lobe, reduce the size of your hoop until you finish with your favourite smaller post.
For more jewellery options and to see our full collection, head online or in-store and we can help you get the perfect layered look.
---