4 Gifts We're Going to Give Ourselves This V-Day
---
4 Gifts We're Going to Give Ourselves This V-Day
But we'll still drop some serious hints to our other halves
---
Whether you find Valentine's Day cheesy or look forward to the holiday of romance all year long — there's one thing we can all agree on: getting gifts feels good. As Nicky and our editors pulled together this year's Valentine's Day Edit we heard the team say, "oh my gosh, I love that", "I am sending this link to my husband" and "f&%k it, I think I'm just gonna buy that for myself". Here's a few of our collective favourite things that we're dropping very obvious hints to our significant others about. However, if they don't come through, we're pretty sure we'll be treating ourselves to a little self-love this year in the form of stilettos, French fragrances, and necklaces we truly, madly, deeply love. In fact, we kinda feel that these are the best types of gifts to give yourself anyway! After all, picking a perfume for someone else is always tricky – and nobody knows you better than you. Get our team's round up of the best gifts to give to you, from you – you deserve it.
Jewellery That's Truly Personal
Obviously getting something sparkly from someone else is always fun but there's also something special about investing in a piece of your own jewellery. It's a moment to celebrate yourself and it can feel empowering. Double down on the self-celebration by choosing pieces that have your initial – think of it as a more refined and subtle Carrie necklace. Here's our top picks.
If you like the idea of a sentimental necklace but prefer pieces that are a little more pulled back and can withstand everyday life – this is the alphabet necklace for you. Designed to be worn everywhere – literally in the shower, in the surf, on your morning run, you'll grow attached to this necklace as it accompanies you through your day to day.
Designed for those that love to make a splash. The literal opposite of subtle and delicate, this piece is for those that are proud to wear their heart on their sleeve and their initials around their neck. Handcrafted using a rare technique of gem setting, each letter is made up of different shades of sapphires and precious stones. A true collector's item that'll remind you of your own magic for years to come.
The most delicate of the bunch, this handcrafted alphabet necklace is perfect for an elevated everyday piece. Pacharee's artisans carefully insert tiny pearls on the side of the alphabet for an extra feminine touch. We also love that this necklace can be worn in 3 different lengths depending on your outfit.
A Much Needed (And Deserved) Lingerie Update
Although something we wear every single day, intimates are often the most overlooked item in our wardrobe. Yet, once you actually invest in some new lingerie you always feel amazing, stand a little taller, feel a little more confident – and wonder why you didn't upgrade your intimates sooner! Use this Valentine's Day to give your lingerie drawer a revamp with Italian lace and cuts that flatter every figure.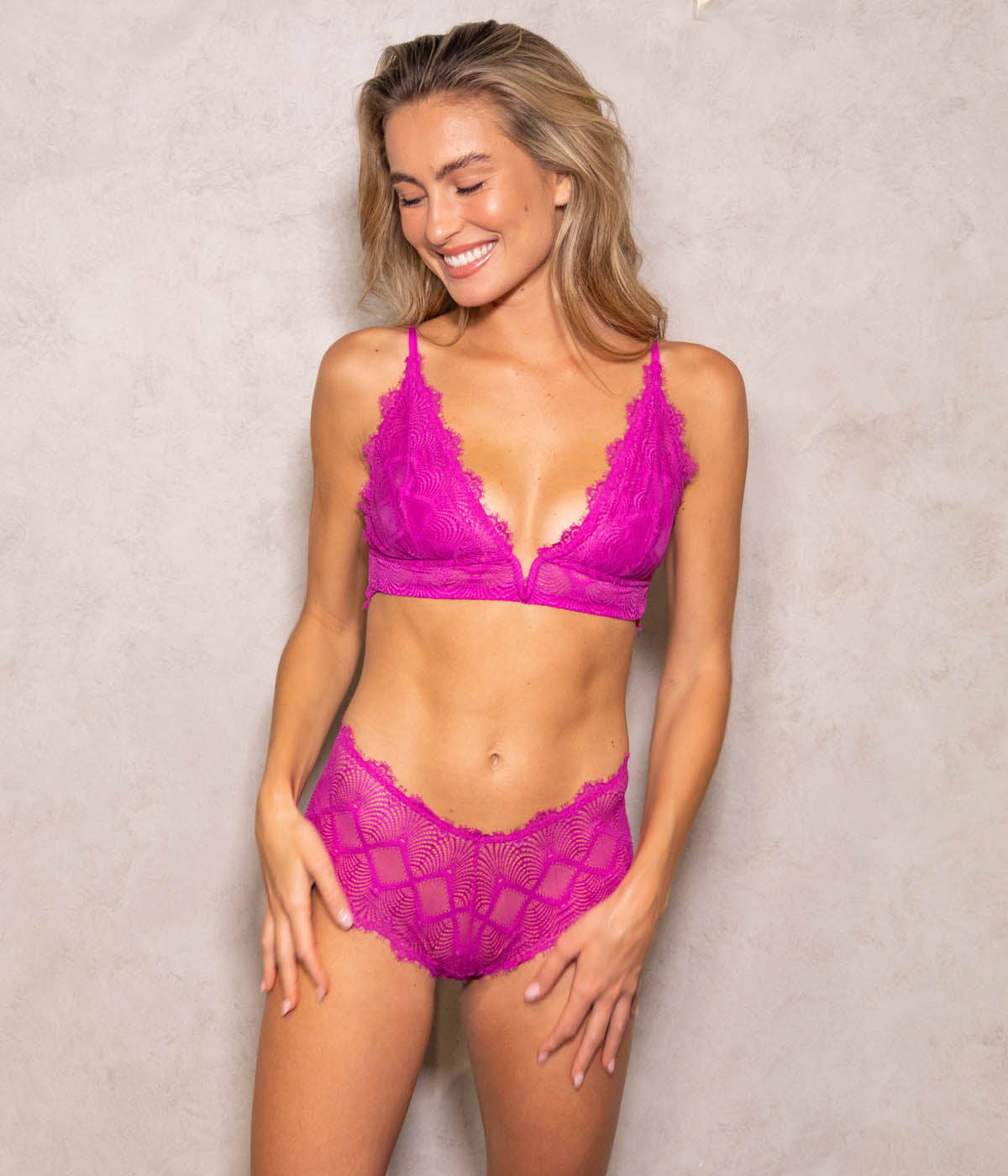 Just look at the fuchsia hue in this amazing set. Designed to give a freeing and bohemian feel without compromising on elegance, we love its delicate eyelash details and stunning lace texture. If you've been searching for a set that has some wow but is still sophisticated – then you've found your perfect match. This piece is also perfect for layering when you want to show off your lingerie under a sheer blouse of maxi dress.
Thongs are an amazing everyday piece that can help with those trickier visible panty lines – but basics don't need to be boring! This limited edition Valentine's Day set is a one-size-fits-all situation and is made from the finest Italian lace. The sorrento, pink lily, and white colour combination also has us swooning.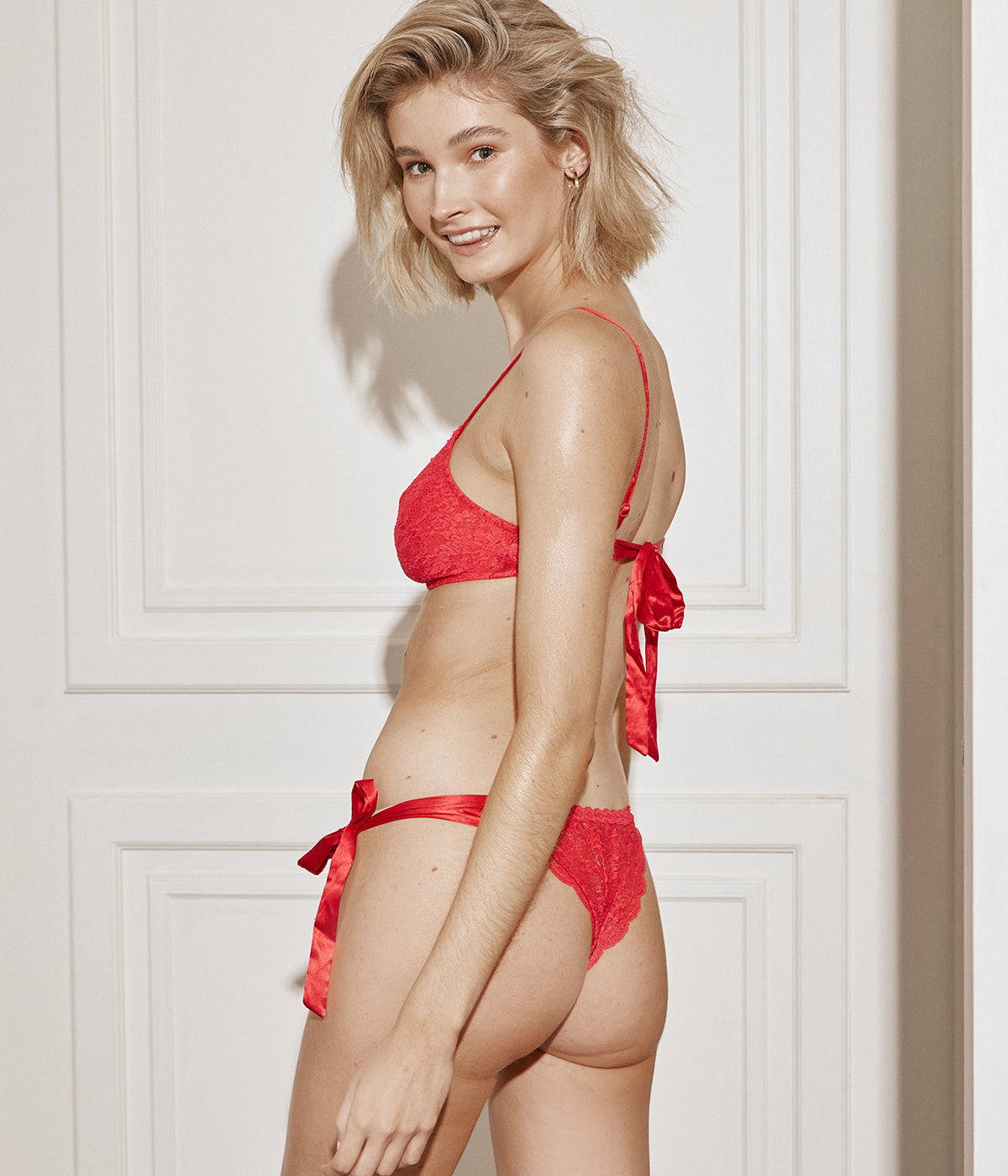 Looking for something a little spicier that still exudes femininity and elegance? This Never Say Never bow set is the gift that gives to everyone. Loved for its beautiful floral pattern and innovative lace that flatters all shapes, you'll feel like fire and look stunning, regardless if you're buying it for date night or a self-care night at home.
Mood Setting Signature Scent
Sometimes the hunt for the perfect scent can seem as elusive as the hunt for the perfect date. Maybe you like it but you don't love it – or it ticks most of your boxes but there's some magic that's still missing? Then you discover "the one" and it's game over. At Calexico, we actually believe there are multiple "ones" when it comes to fragrance. You've got "the one" fragrance you love for your day to day, "the one" you love for date night, "the one" you love for vacations, "the one" you save for very special occasions. Either way, here are "the ones" that our team are loving and investing in this year.
This classic perfume is a tribute to the iris – a rare and natural beauty. The process that goes into making this perfume is one of deep reverence and craft. The root is left to grow deep underground for three years before being dried for another three years. It's then ground up and transformed into iris butter, probably the most expensive butter you'll ever encounter. The result is a scent that is gorgeous, universal, and permanent like an invisible tattoo that withstands the test of time – just like your relationship to yourself.
Beyond fragrance for the body, scent can be a powerful tool to cultivate at home. A subtle yet powerful smell of iris, tobacco and vanilla – this is a combination that is unforgettable and distinctive – a sensual scent that is perfect for date nights at home, Valentine's Day or otherwise.
Inspired by Brigitte Bardot and Jack Palance in the French New wave film Le Mépris this 19-69 fragrance is equally as iconic and stylish. Fresh and comforting, the notes include sweet and bitter orange, ylang ylang and white musk – we love this for our summer days and vacations.
Shoes, Shoes, & More Shoes (No Explanation Needed)
Stilettos, pumps, block heels, slides, and sneakers – one way to a woman's heart definitely starts at her feet. Perhaps it's the fact that no matter the day you're having shoes can always be relied upon to support you. Maybe your hair isn't cooperating, your favourite pair of jeans are in the wash, or you can't seem to pull together an outfit – and then you pop on an amazing kitten heel or edgy sneaker and you're back to feeling amazing again. Here's some of the pieces we're coveting this Valentine's Day.
Not often are you given the chance to design your perfect sneaker. It was a true dream for us to collaborate with Philippe Model on this Calexico Exclusive design that was made in one of the brand's iconic model - TRPX and features Calexico's favourite print, leopard horsey. We're also head over heels for the ice glitter logo and neon pink detailing.
There's something luxurious about gifting yourself a house slipper – especially when it's this one from the masters of effortless street style and includes faux shearling in a gorgeous dusty rose hue.
The moment this entered the boutique, we're fairly sure our hearts stopped. Elevated but edgy, this pump makes a point with its pink snake print leather, v-shaped vamp, and elegant ankle strap. Perfect for an outfit that goes from day to night – these heels will become your new ride or die for every occasion.
Now, that you've got yourself sorted – are you looking for a gift for your other half or want to spoil your best girlfriends? Check out our Hers & His Valentine's Day edit for presents they'll love now and forever. *Psst* Don't forget to use code "VALENTINESDAY" to receive complimentary express shipping & giftwrapping.
---